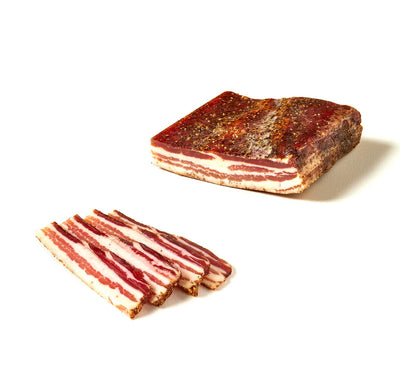 Uncured Pancetta
Uncured Pork Belly a.k.a. Italian Bacon
Uncured pork belly seasoned with pepper. This is perfect as a bacon substitute.  

Pancetta is available in a 0.5 lb or 1 lb option. 
Please note, product weight can vary 25%.  Product sold whole and is not pre-sliced.
Instructions: Easy-to-eat & ready to use. No instructions, soaking, or peeling required.
Packaging may vary from website.
What's this?

Our most popular flavors are available in Original or Uncured, both with the same great flavor. Our Original product line uses traditional nitrite and nitrate curing salts while our Uncured product line uses celery juice powder, a natural form of nitrate and nitrite.
Adding product to your cart