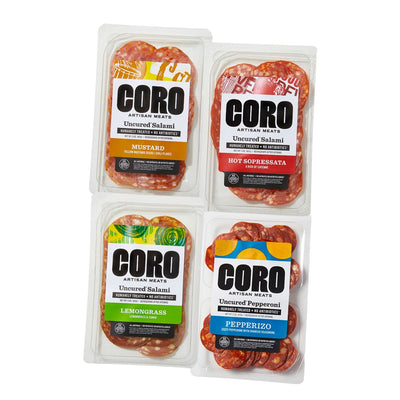 Sliced 4-Pack: Spice It Up
If you're anything like us, you'll want more than just a few slices of salami. Buy a 4-pack of our sliced packs and save! This option is perfect for those seeking a little extra kick to the taste buds. It allows you to try four of our most bold flavors at once. These do not need refrigeration upon arrival, so you can store them in your pantry or wherever you've got room! 

Each sliced pack includes 3 ounces of thinly sliced salami or pepperoni that is ready to eat. This 4-pack includes one of the Mustard, one of the Hot Sopressata, one of the Lemongrass & one of the Pepperoni flavors. 
All our cured meat is shelf stable. Refrigeration is not required.
Adding product to your cart