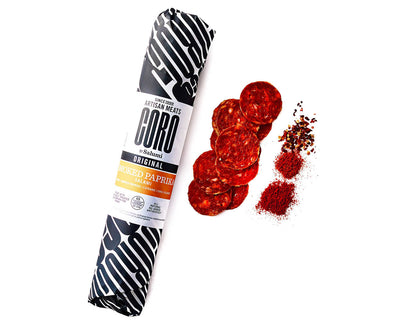 Smoked Paprika Salami 13.5oz Pepperoni Stick
Smoked Paprika / Cayenne / Chili Flakes
Our smoky flavor with a little heat in the finish make this a favorite for pizza.

13.5 ounce pizza-style stick is 15.25 inches long by 1.6 inches wide.
Instructions: Easy-to-eat & ready to slice. No instructions, soaking, or peeling required.
All our cured meat is shelf stable. Refrigeration is not required.

Packaging may vary from website.
What's this?

Our most popular flavors are available in Original or Uncured, both with the same great flavor. Our Original product line uses traditional nitrite and nitrate curing salts while our Uncured product line uses celery juice powder, a natural form of nitrate and nitrite.
Adding product to your cart